By South China Sea Philippines Correspondent
It doesn't get anymore idyllic.
The private beach at the Shangri-La's Mactan Resort and Spa Cebu, Philippines consists of fine white sands and is full maritime merriment with small sailboats to snorkeling. This family friendly beach is nestled at the foot of the resort past wending garden paths and pools.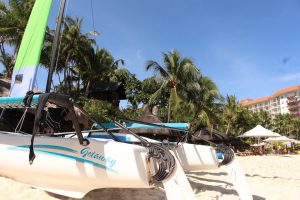 Reserved exclusively for guests, the beach looks out onto a charming bay and the "Shangri-La Marine Sanctuary." There is a coral buffer a 100 meters out, so the waves coming in are gentle enough for kids or weak swimmers to enjoy without getting pummeled by big waves—think boogie boarding. The crystal clear and azure waters are awash black and yellow striped fish darting about.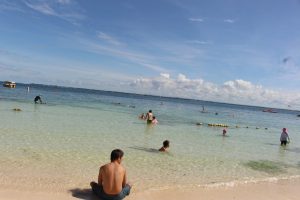 The resort itself is applauded for its spa services and its live band in the lobby bar. It features 530 spacious rooms and suites and seven fine dining and comfort food restaurants. Designed with gardens and plants everywhere, the grand sandstone hued halls make guests feel special.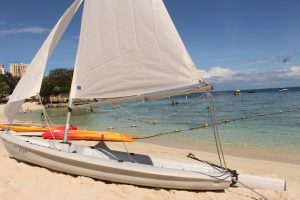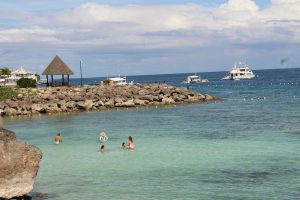 It's also conveniently located 20-minutes from the Cebu International Airport—perfect for lazing away on the beach after late checkout before bounding off for evening flights. 
For more information: