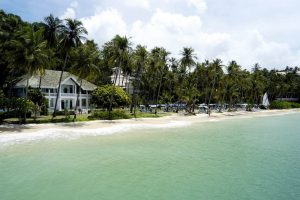 By South China Sea Staff//Images: Cape Panwa Hotel Phuket Raceweek
The southeast coast of Phuket island will see the 16th edition of Cape Pawna Hotel Phuket Raceweek from 17 – 21 July, 2019.
Headquartered at the acclaimed Cape Pawna Hotel, this event is expanding with more entries across the Asia-Pacific, particularly with mates over in Australia 
According to organizers, "Entries are being received from sailors around the world and highlights of just some of the boats entered in the monohull classes include the TP52 Team Hollywood, two Sydney 40's (East Marine Emagine and Aquari), Farrgo Express and Phoenix, while in the Cruising class Kantus Bride, Chinon – a new entry from Australia – Lady Bubbly and BeauX Esprits have already entered."
These entries will be split into three classes: Firefly 850 Sports One Design, Multihull Racing and Corsair Pulse 600s.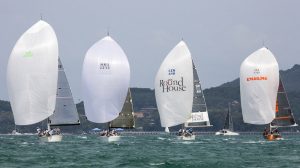 Tom Navanukroh, Cape and Kantary Hotels' Travel Industry Group Director, said, "We are very proud to be a part of this thrilling event once more, highlighting as it does the excellence of the sailing opportunities around Phuket.  Not only that, but the economic advantages to the island and its inhabitants are immense. We wish all participants good sailing and equally good socializing."
On the Asian circuit, Cape Panwa Hotel Phuket Raceweek is a key regatta and kicks-off the 2019/2020 AsianYachting Grand Prix.
"We are expecting in the region of 40 boats and upwards of 400 sailors, family and friends to take part this year. The event provides an important revenue for Phuket's economy during the island's Summer Season, and we are keen to ensure all participants have a great time on-the-water and also onshore. Accommodation bookings for the regatta are already up on last year and we are looking forward to what we expect will be another excellent Cape Panwa Hotel Phuket Raceweek," said organizer Byron Jones, Managing Director of Media Business Services Co. Ltd.
Registration: www.phuketraceweek.com/registration.php
Race Notices: www.phuketraceweek.com/notice-of-race.php
Cape Panwa Hotel: www. capepanwa.com