By South China Sea Style + Action Correspondent in Shanghai
Images Courtesy: SNH48
The recent SNH48 super pop girl congress was perhaps the largest display of model action in Asia this past summer—true Queens's for this region and season. Its an interesting playout of social influencing of model citizens in China.
The 17,000 capacity Mercedes Benz Arena in Shanghai was packed with jeering fans for the SNH48 super pop girl congress in late July.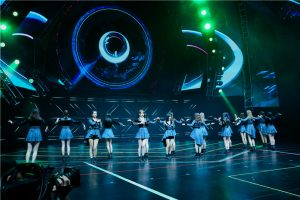 Social media driven, fans from across China texted in for their favorite singer and dancers in a frenzy of pop passion.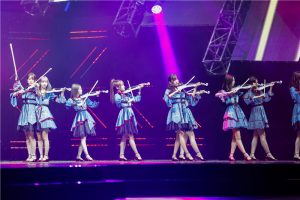 Carved from J-Pop and K-Pop giant girl bands in 2012, SNH49 became independent in 2016 and has held mega-congresses of talent contests for its more then 200 female members and their respective acolytes and spin-offs.
According to the band press statement, "The exclusive music strategy cooperation platform China Mobile Mi Mi music live broadcast presented the world's largest Chinese-language idol group SNH48 GROUP (www.48.com) 'new journey' sixth idol annual popularity final election results release concert At the Shanghai Mercedes-Benz Cultural Center. Li Yitong won first place, and Mo Han and Duan Yi were ranked second and third. In addition to the list of TOP48 members of this year's general election, the site also published a number of important development plans for the SNH48 GROUP, bringing fans a delicate and magnificent idol feast."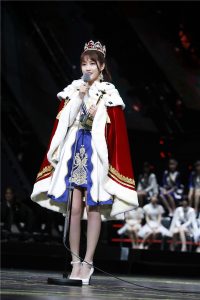 First Place Winner Li Yitong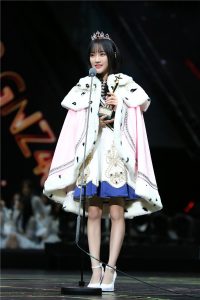 Second Place Winner Mo Han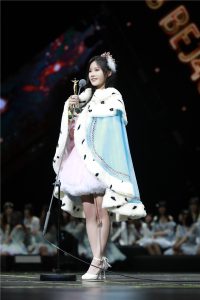 Third Place Winner Duan Yixuan
Moreover, a total of 200 members from SNH48 (Shanghai), BEJ48 (Beijing) and GNZ48 (Guangzhou) participated in the contest, which was broadcast live to tens of millions of domestic and foreign audiences on live through Mi Mi Music, Dynamic 101 Radio, and YouTube.
Their Greater Bay Area sisters from Guangzhou "GNZ48"sang their original repertoires of "Fission", "Imperfection", "Miss victoria" and "HERO". Meanwhile, Beijing based BEJ48 performed four singles of "Atlantis Memorial", "Future Theme Song", "Speed" and "Medal of Honor" for their followers. SNH48 itself performed their original hits "Flower Festival", "X of Destiny", "Prophecy" and "Truth of the Night", igniting the Mercedes Benz Arena.
Fan formed spin-off group Demoon also brought the house down.
Beyond music and concerts, the raw energy of these model citizens is seeing them expand with Siba Film and Television, and the domestic idol animation "Unlimited Girl 48" jointly produced by Silk Street Media with Tencent Video, Seven Lingshi Animation, Pengu Film and Television. "Unlimited Girl 48" will be released by the end of 2019.
They're always recruiting: https://join.48.cn/snh_13/