By South China Sea Magazine Cruises Editor//Photos Courtesy of Regent Seven Sea Cruises
Regent Seven Sea Cruises will christen iconic model Christie Brinkley as its new Godmother this 2020 for their resplendent Seven Seas Splendor.
Following centuries of maritime tradition, a ship's Godmother christens the vessel as it cascades into waters for the very first time. She's also responsible for bestowing good luck over the ship and to all guests and crew who sail her.
Brinkley will bust a bottle of bubbly over the Seven Seas Splendor in Miami on February 21, 2020.
Jason Montague, president and CEO of Regent Seven Seas Cruises, said, "Christie Brinkley is a universally beloved icon who is synonymous worldwide for her beauty, style and commitment to health and happiness."
He added, "It's fitting that the Godmother of Seven Seas Splendor reflects timeless elegance, vitality and sophistication, as Regent has perfected all the details of luxury onboard Seven Seas Splendor. We are deeply honored that Christie will christen our newest ship and delighted to welcome her to the Regent Seven Seas Cruises family."
Christie Brinkley commented,"We learn best about the beautiful world around us by exploring new cities, immersing ourselves in different cultures and interacting with the gracious people who live there. We cherish and remember these moments more when we experience them with the people we love. The absolute most invigorating and luxurious way to travel the world is by cruising the seas."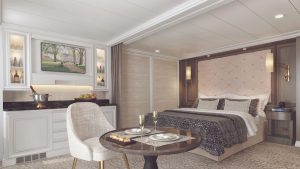 She added,"As a woman who strives to inspire other females to achieve their career and personal aspirations, I'm especially proud to be Godmother of the first new cruise ship in maritime history to be captained by a female, the trailblazing Captain Serena Melani."
The Seven Seas Splendor will offer her 750 guests this all-suite, all-balcony ship of 46,000 square-feet of Italian marble a plush choice of 375 suites. This includes 52,000 square-feet of balcony space, among the largest balconies at sea. The suites range from the 307 square-foot Veranda Suite to the lavish 4,443 square-foot Regent Suite.
In fact, the Regent Suite features the ultimate comfort of a $200,000 Hästens Vividus custom handmade mattress, and an in-suite spa retreat featuring a personal sauna. It has a steam room and treatment area with unlimited spa treatments, plus unobstructed 270-degree views of bow from the 1,300 square-foot wraparound veranda. There is a glass-enclosed solarium sitting area on top of the bridge for a Captain's eye view.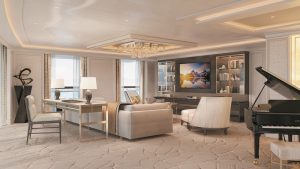 A multi-million-dollar art collection is aboard, as is a Culinary Arts Kitchen with 18 stations for hands-on gourmet cooking demonstrations presented by master chef instructors, and a Serene Spa & Wellness center.
During her inaugural 2020 season, Seven Seas Splendor will sail the Caribbean and Mediterranean under the helm of 30-year veteran Capitan Serena Melani.
For more information: www.RSSC.com