By South China Sea Magazine Boats + Yachts Correspondent 
Talk about making a splash!  The Sunseeker Innovative Predator 50 is a fast moving treasure chest on the high-seas.
Its gaining a solid gold reputation for the enormous entertainment space inside this 45' feet vessel. This includes a sizable saloon with panoramic views and spacious foredeck seating for sunbathing. The latter features an optional retractable pram hood canopy. It's moving aft "Beach Club" concept has a room for an optional built-in BBQ, and overheard shower with fold-down transom seating. Lastly, when it comes to serious water play, it has an integral garage which can hold a Williams 325 Jet Tender that can be launched with a hydraulic bathing platform.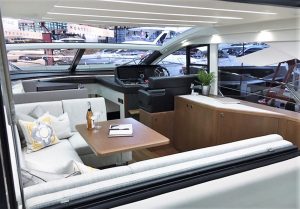 The forward VIP cabin has a light and luxurious feel with a scissor berth for full flexibility. It can carry up to four people, with the lower saloon easily converted into an extra cabin that can hold six people.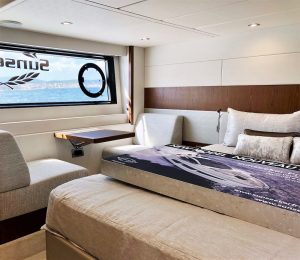 The interior is luxurious with fine materials and large windows to ensure maximum light and comfort. 
Up top, the Predator 50 is equipped with a fully opening hardtop roof and supreme cockpit that doubles as a saloon. 
The engine room runs powerful Volvo Penta D8-600 engines mated to shaft drives with optional electric steering and joystick control. 
Since launching in January 2018, over 30 ships have been sold and its winning awards. In May 2019, it won "Best Sportscruiser over 45ft" at the 2019 Motor Boat Awards, following from the encomiums of the 2018 "Best Sports Cruiser – up to 55 Feet"category  at the Asia Boating Awards.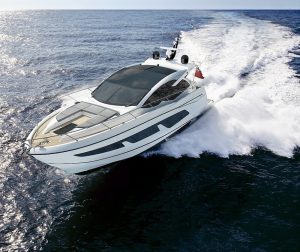 Upon receiving the Best Sportscruiser over 45ft award, Sunseeker CEO, Christian Marti said, "The Predator 50 exemplifies the latest in Sunseeker's cutting-edge design and sets a new benchmark for the smaller performance format. Since it was launched at Düsseldorf Boat Show last year it has had an outstanding reception from customers and media alike. We are thrilled to have won this award and it underlines our ability to keep giving our customers the best in class across every segment we operate in."
In other words, a fine treasure ship that's splashing up the sports yachting scene.