By South China Sea Staff
Images: Sands China
'Tis the season for fine dining. On the South China Sea, we know Macao with its Portuguese and Cantonese heritage with the infusion of American casino entertainment means there's fine seasonal feasting.
Indeed, from the fine plates of Italian at Portofino to signature Cantonese at Lotus Palace, Sands China Macao restaurants are offering a treasure trove of Christmas and Chinese New Year specials. The Sands Macao four properties at The Venetian, The Parisian Macao, Sands Cotai Central, and Sands Macao  will be feasting and feasting with rollicking merriment.
The Venetian 
At Portofino Italian, this Christmas Eve the trattoria-style restaurant is offering a five-course seafood dinner featuring tuna carpaccio, sevruga caviar, ocean trout, scallops, risotto with clams and jumbo prawns and turbot fillet. Their New Year's Eve menu includes Kumamoto oysters, caviar, goose liver terrine, veal and Parma ham tortellini soup, Venison Medallion, among others.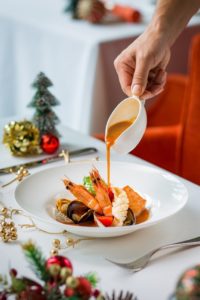 Ocean trout, scallops, and rich seafood broth at Portofino
Bambu's Christmas Eve, Christmas Day and New Year's Eve dinner buffets will include seasonal offerings such as roast turkey with all the trimmings and roast ham with apple sauce at the carving station, as well as a selection of Christmas cookies and traditional Christmas pudding. Head to this ever-popular buffet restaurant for the most colourful, festive dining in town!
The Parisian Macao
Le Buffet  will dish out Cajun king prawns, grilled Mediterranean cod, seabass and carving stations for Australian prime rib on the bone and roasted butterball turkey. Live cooking stations will serve up pan-fried foie gras, Boston lobster thermidor and cheese raclette, alongside suckling pig, poached drunken prawns and more treats added for Christmas dinner. Christmas fruit cake, mince pies and buche de noel, with a fabulous chocolate fountain will be plated out for the sweet tooths.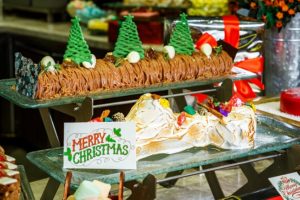 The sweet buffet at Le Buffet
Brasserie's Christmas and New Year set menus offer foie gras with black truffle sauce, seared Hokkaido scallops, baked beef fillet mignon, Boston lobster, roasted duck breast. They also have a Festive Afternoon Tea Set from Dec. 12, 2018 to Jan. 5, 2019.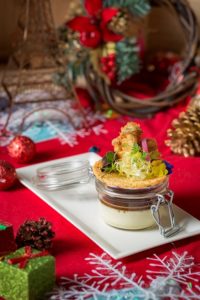 Duck foie gras flan in truffle sauce at The Parisian Macao
La Chine's seasonal lunch set menu serves pork dumplings with Alaska crab and asparagus jostle for space alongside smoked cod with lavender and scallions, wok-fried prime beef and crispy cumin lamb cutlets. Steamed French blue lobster, crispy turkey roulade stuffed with morel mushrooms, fresh black truffle and shrimp mousse will be served with wok-fried brussel sprouts for Christmas dinner.
Crispy turkey roulade stuffed with morel mushrooms, fresh black truffle and shrimp mousse served with wok-fried brussel sprouts and sweet potato
Lotus Palace's  luxury Cantonese will see seasonal touches for dim sum like steamed black truffle and lobster dumplings topped with gold foil, double-boiled fish maw and chicken soup, pan-fried A5 Miyazaki wagyu beef with pumpkin broth and white asparagus, grilled turkey roulade stuffed with seasonal mushrooms with garlic cream, light potato gnocchi, artichoke and shallots and more.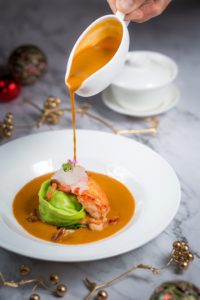 Pan-fried French blue lobster claw and poached lobster ravioli in lobster bisque with armagnac at Lotus Palace
Sands Cotai Central
The Lounge, Conrad Macao features mouthwatering Premium Christmas Tea Set from Dec. 1-31, 2018, featuring savoury snacks and sweet delights. It also has a choice of tea or coffee or two Christmas cocktails/mocktails, priced at MOP 268—with a 5% government tax and 10% service tax. Deluxe Afternoon Tea menu for just MOP 298 (taxes apply), which includes an exclusive limited edition Christmas Conrad Bear.
Grand Orbit's live carving stations offer roast turkey, roasted prime beef rib, honey-baked whole pineapple ham and all the trimmings including brussel sprouts, cranberry sauce and gravy. Dinner includes foie gras, oysters rockefeller and double-boiled abalone and sea cucumber in chicken soup, with a roasted lamb rack station for New Year's Eve dinner. The dessert buffet has a chocolate fountain and Christmas favourites. It also has a Takeaway Package for 12 people that includes a roasted turkey, whole chicken, beef striploin and ham, complete with your choice of sides. The Takeaway Package set includes Margherita pizza, ham and pineapple pizza, chilli seafood pizza, garden salad, canapés and a choice of turkey or roasted Australian beef striploin, traditional chocolate log cake, assorted cookies and two bottles of juice for just MOP 2,680 (local taxes apply).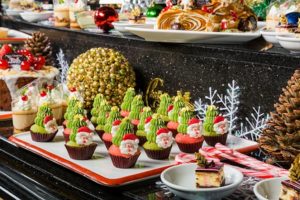 Desserts galore at the Grand Orbit
Holiday Inn Lobby Lounge, Holiday Inn Macao will serve a selection of international treats and desserts, including Christmas pudding and mini coffee yule log cake, coffee or tea, this is a perfect festive indulgence. Available on Dec 25, 3:00-6:00 p.m.
Chiado Portuguese restaurant offers sautéed squid and prawns, octopus salad, creamy courgette soups and roasted pumpkin soups, Mediterranean red tuna tataki, seared scallops, beef tenderloin, green asparagus risotto, dover sole fillet, Iberian pork loin and more. Chocolate cigar or green apple tarts are for dessert.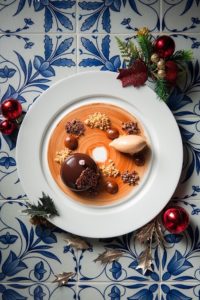 Chocolate bombe with salted caramel and hazelnut ice cream
Sands Macao
Copa Steakhouse set menus this Christmas and New Year's Eve serve\ smoked Iberico pork belly, Hokkaido scallops, chili-cumin lamb medallions, Christmas turkey, ragout of M7 Australian wagyu beef, butter-poached French blue lobster, magret duck breast, venison loin, jerked black kingfish and much more. Traditional Christmas pudding, brandy crème Anglaise, mince pies and Christmas macarons. Dinner menus are priced at MOP 888* on Dec. 24, 25 and 31.
888 Buffet will dish out Australian kobe beef in teriyaki sauce, Asian rack of lamb, wagyu oxtail in port wine sauce, Rougie foie gras, baked lobster with black truffle, seared tuna loin and tequila-marinated garoupa fillet, and a range of delicious Christmas desserts. 
We're stuffed already just thinking about it….
To learn more about Christmas and New Year celebration menus across Sands Resorts Macao and Sands Macao this holiday season, please go to: en.sandsmacao.com/dining.html or https://en.sandsresortsmacao.com/restaurants.html .
Feel free to e-mail South China Sea Magazine if you wish additional details: info@southchinasea.com.cn