By South China Sea Dining + Wine Correspondent//Photos: Courtesy JW Marriott Macao
Urban Kitchen's Special Guest Chef Michael Rosenblum is holding a special USDA Prime Graded Beef menu at the JW Marriott Macau this summer.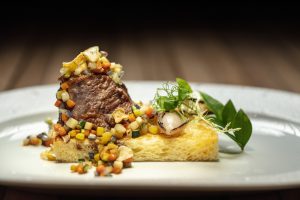 Poached Beef Cheeks in Native Olive Oil with Pistou Vegetables and Crispy Garlic on Toasted Brioche
The "Butcher's Table" runs from July 11 through August 11 and features seven meaty original recipe delights just for Macao. Each night highlights three of his culinary creations: from Authentic Chile con Carne to West Texas Brisket to Hatch New Mexico Enchiladas. And yes, Chef Michael's culinary roots in the United States with touches of the US South.
But he got his knocks cooking at a Chinese restaurant in the US State of Georgia when he was just 15—adding Chinese language and cooking to his early culinary arsenal. He graduated from Cornell University, spent a semester at Shanghai Teacher's University, and would later become the Executive Chef at the official residence of the U.S. Ambassador to the People's Republic of China and was named one of the 100 most influential people in China by Food and Wine Magazine in 2016!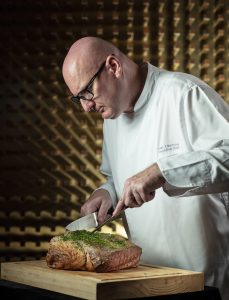 Chef in Action
Other meaty dishes on the menu include succulent Braised Beef Brisket with Herbed Crust on Creamy Fermented Cabbage, Vanilla Carrots, Short Rib au Jus and Grandma's Potato Apple Mash, and the delectable Poached Beef Cheeks in Native Olive Oil with Pistou Vegetables and Crispy Garlic on Toasted Brioche. Beyond beef there is Virginia Whole Hog Barbecue, Chisolm Barbacoa and Rio Grand Fajitas and Hawaiian-inspired Big Island Pork Lau Lau.
Brought in by his good friend and fellow cook, Executive Chef of JW Marriott Hotel Macau, Chef Marc Cibrowius, the two make a perfect pair—as German-born Marc has cooked as a globe trotter too from Hangzhou to Qingdao to Muscat to Jakarta to Bangkok.
Consider us booked at Urban Kitchen sometime soon this summer.
Tagged at MOP 528 for adults and MOP 259 for children from Monday to Friday and MOP 598 to MOP 298 (service tax of 10% for all). Reservations can be made at +853-8886-6888.