By South China Sea Dining + Drink Editor// Images: Takumi by Daisuke Mori
Rolling art and seasonal dining into one is the Zen of Japanese-French fusion sensation Takumi by Daisuke Mori—especially this month of May. 
The eponymous named Takumi by Daisuke Mori yesterday launched a nine-course set menu inspired by contemporary Polish collages from up-and-coming Studio Ziben. They run until May 18. 
Michelin-starred Chef Daisuke Mori, "inspired by the works of internationally renowned artist and designer Mariusz Malecki founder of Studio Ziben" will serve up highly original dishes which include: Black rice risotto with squid ink, Blue lobster médaillon, and Langoustine with beetroots gelée.
Photo Caption: A dish co-created by Chef Mori and Malecki, the Black rice risotto with squid ink, point of silver is a reinterpretation of fine art in the culinary industry – simple yet delicious.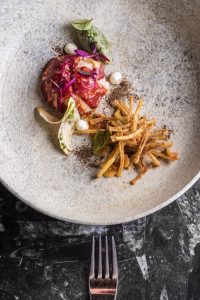 Photo Caption: In a symphony of flavours and textures, the Blue lobster médaillon, barigoule and topinambours combines the savory of the blue lobster with the nuttiness and sweetness of the artichokes barigoule, while offering the palate tender, crispy textures.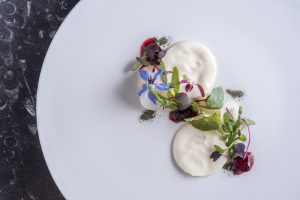 Photo Caption: Tasting as refreshing as it looks, the Langoustine with beetroots gelée, parsley roots purée is a dish that lights up the appetite, the essence of the dish is further elevated by the distinctive marine saltiness of the samphire.
The promotion was inspired by arecent collage work series created by Malecki in honour of his first Hong Kong visit and pop-up exhibition Room Plus at PMQ this month.
"Studio Ziben creates stunning handcrafted furniture with materials of the highest quality and reuses some of the pieces into the five newest collages all displayed at Takumi by Daisuke Mori, that Art lovers are welcomed to buy and bring them home," said Takumi by Daisuke Mori in a statement. 
Chef Mori added, "It is all about the feelings when you look at the art work, truly brilliant ones – using simple materials such as wood and paper and end up creating such powerful composition of collages. Similarly, the dishes I created use seasonal ingredients, they may not stand out alone, however when you put them together, magic happens."
The night of May 14, 2019 will be hosted by artist Mariusz Malecki with an artistic 8-course menu. 
As is common, only 12-diners can be seated inside Mori's open kitchen, so prep early for this seasonal menu. 
For more information: