By South China Sea Staff
Images: Secret Retreats
The legendary Vat Phou ferry recalls a time of ancient architectural treasures and the colonial teak trade on its languid Mekong adventures.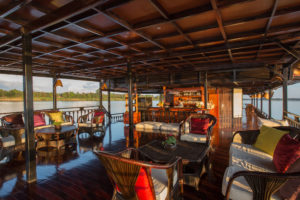 Bar None Views
Once a fabled teak ferry around the vicinity south of Vientiane, the fully refurbished Vat Phou ship is among the finest plying the Mekong in Laos. Consisting of 2 private upper-deck cabins and 10 lower deck cabins, the boat features elegant dining and bars at the front and back of the ship. Each cabin has twin bed offerings (some with King), river view windows, aircon, and private bathrooms with hot showers and western toilets. They also have life jackets, including children's sizes.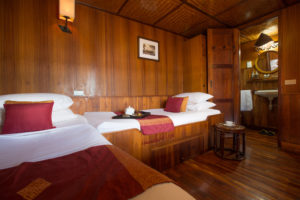 Common Sense Cabins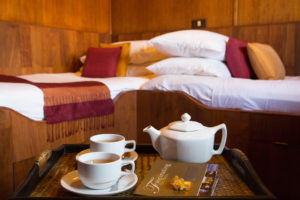 Tea and Reading in Quarters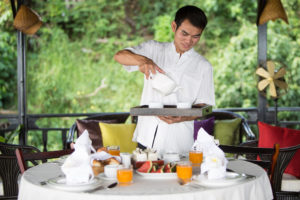 Brilliant Breakfast or Brunch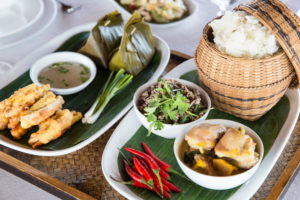 Stellar Set Lunch
Guests can recline in the front upper deck with rattan armchairs, sofas, coffee tables and lounges to read, nap, or take scenic photographs. The bar at the front is also where breakfast and lunch are served. All day tea, coffee and water are gratis.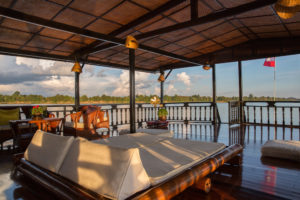 Intelligent Interior and Deck Decor
The Vat Phou teak ship is 34 meters long with a 7.5 meter wide steel hull powered by twin 260 HP Isuzu diesel engines. It is staffed by 14 capable hands—two captains, two mechanics, two cooks, three maids, and five bar and restaurant waitstaff. The onboard guide speaks English, French and Thai. They can explain the complexities of regional history, culture, and natural wonders—such as the UNESCO World Heritage Vat Phou ruins at Chmpassak, the Oum Muong ruins of Huei Thamo, the. 4,000 Islands, and the Phapheng waterfalll on the Laos-Cambodia border. 
Churn Up and Down River Back in Time
To set sail into this mystic Mekong mission, visit www.secret-retreats.com or e-mail for deeper details at South China Sea Magazine: info@southchinasea.com.cn .