By South China Sea Staff
Images: Palatium Wines
The finest Portuguese tipples by winemaking experts Justino's Madeira will be served at a special matching dinner created  Portuguese chef Martinho Moniz.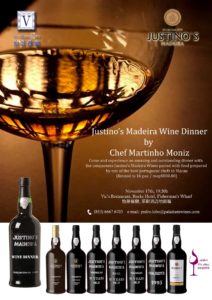 Taking place on November 17, 2018 at Vic's Restaurant at the Rock's Hotel on Macau's Fisherman's Wharf, the night promises an incredible array of seafood and steak with delightful pairings from the 1870 founded Justino's Madeira vineyard. Expect a sweet tooth crescendo with dessert and dessert wines.
The night will be hosted by South China Sea Magazine's very own Commodore Pedro Lobo.
For more information, e-mail: pedro.lobo@palatiumwines.com