By South China Sea Staff
Images: By Rayza Akinstoph
Brazilian born Rayza Akinstoph is a model citizen bon-vivant—who sets up alluring shots of herself. Now based in Los Angeles but still hitting the globe for exotic shoots, Rayza chatted with South China Sea Magazine for some fun questions.  
South China Sea Magazine (SCSM): Are you a full-time, part-time, or amateur model? Or just for fun?
Rayza: I'm a full time Brazilian model. I've  been doing this since the age of 12. I've had the chance to travel around the world with my work. You could say that I also have fun being able to visit, learn and explore new cultures and countries.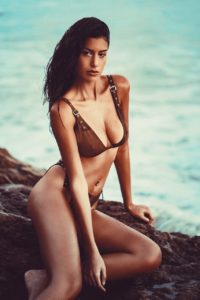 SCSM: Your portraits are stunning. Do you take them yourself or have friends or a photographer take them?
Rayza: Thank you! All belong to my work.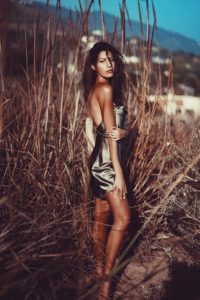 SCSM: What swimsuits do you like to wear?
Rayza: My favorites are the Brazilian ones.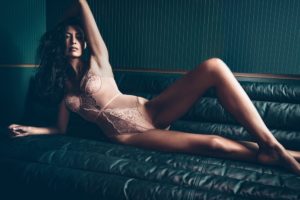 SCSM: What are your favorite beaches or swimming locations? Why?
Rayza: My favorite beaches … umm…Even though I've traveled so much, the best beaches for me are in the North of Brazil with warm and clear water. My favorite spot is an island called Ilha de Boipeba. It's not very well known even by Brazilian tourists, but is a paradise where the river and ocean meet together; very calm and all you see is just water and coconuts trees!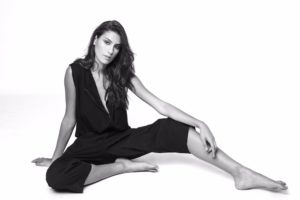 SCSM: Do you have a pair of lucky sunglasses?
Rayza: Haha no I don't have a lucky sunglasses. I believe that instead of having an object to give you luck, being grateful for whatever dood things happens to you and always doing good deeds is enough for the Universe and God get you back on good Karma!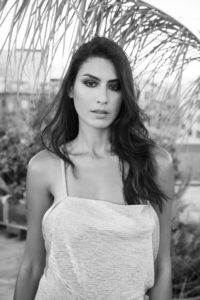 SCSM: In your dream life, are you a yoga guru, famous DJ, or healthy food chef?
Rayza: If my dream life were supposed to be of of those options, I would prefer to be related to music.
SCSM: Cocktail dresses or evening gowns—which do have more of? Best one?
Rayza: I have more Cocktail dresses
SCSM: Which do you prefer posing for: iconic architecture, expensive car or yacht, with friends on the town, or at home with beloved pets? Why?
Rayza: I would probably prefer a shoot on a yacht. The ocean keeps me calm and gives me peace, even though i love to snuggle with beloved pets ?
To follow Rayza, she can be followed on instagram at: @rayzaakinstoph 
Model Citizen is a South China Sea Magazine reader driven column. Do you love modeling for fame or fun? Both? Feel free to contact us to be highlighted in Model Citizen by e-mailing us at: info@southchinasea.com.cn