By Christopher Cottrell
Images: Christopher Cottrell //
The meter high waves at Dadonghai beach in Sanya are as easy going as the riders who surf here. Until typhoon season at least.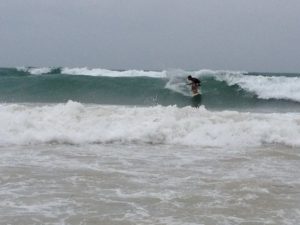 Typhoon Rider
Then swells can get serious, with harsh rip tides. It's not an ideal break but the surfers here thresh it out. Its a family oriented strip of sand, with many Chinese and Eastern Europeans wading and belly-floating in the shallows.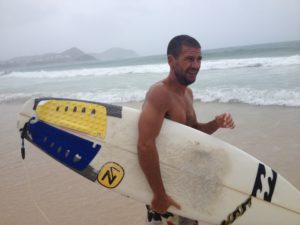 Pelting rain won't stop them 
By night, it can get wild. So wild that authorities had to ban nudity at night. There's no full moon parties like in Thailand. No trance raves. But the boardwalk and back alley bars beckon. So do the cold long neck Tsingdaos.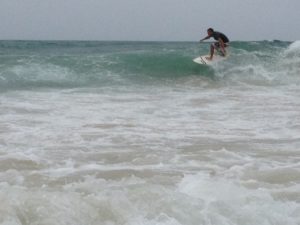 Easy like Sunday morning…
This is hardly a highlight on the surfer compass compared to Riyue Bay up the Hainan east coast. Sure, there are meets here. Sponsors. Newbies, grannies in facekinis. Posers too.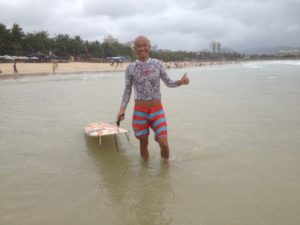 Happy Days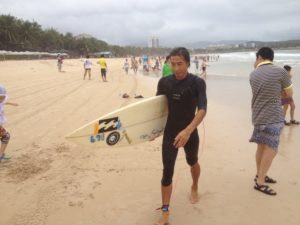 Beached 
But not in the morning. Not with a typhoon like Bebinca bearing down. Not with more typhoons coming in this endless summer–with climate change promising heavier typhoons and swells for Hainan and its surfers for years to come. At dawn, the bold and brave aren't fazed.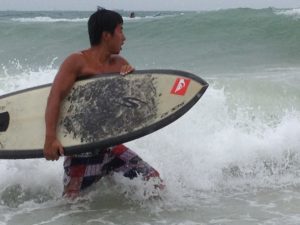 Charging Out
They paddle out in the mist and pelting rain, with the dangerous tides.
And quite simply with no glory nor sponsors, they just let it ride.