By South China Sea Staff
Images: Seabourn //
It's a week of sailing to a floral world—from Singapore to Bali. All aboard the Seabourn Encore for the 7-Day Orchid Isle Escape. Indeed, even the outside deck shade of the Encore takes on an orchid pattern.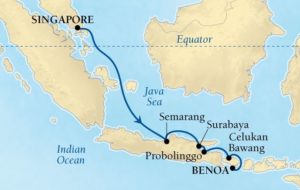 A Week of Orchid Isles
Hoisting anchor at 11 pm on 26 November 2018 in Singapore, the ship sails for two days until reaching the city of Semarang, Java, in Indonesia with its colonial Dutch architecture.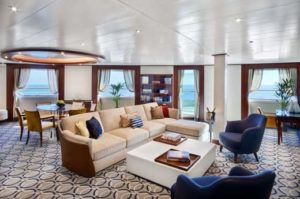 A Suite Stay
The next day, its down the coast to Surabaya for nature and shopping excursions, followed by more anchors dropped at the old exotic sugar town of Probolinggo, Java, then onwards to northern Bali at the port of Celukan Bawant. Day 7 arrives on 3 December 2018 in the southern beachside cosmopolitan city of Benoa (Denpasar), Bali. Those taking a long December can ring in 2019 from here.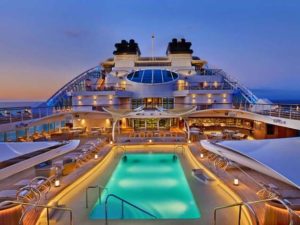 Pool of Tranquility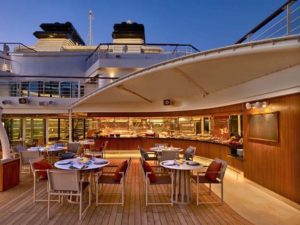 Deck-side Dining
The scents of rain kissed orchids, cardamom, ginger, and cinnamon won't be the only aromatic sensations on offer. Delectable dining with paired wine from the Michelin-star chef Thomas Keller's The Grill, as well as Wellness & Spa inspired treatments from Dr. Andrew Weill, are also part of the package of the Seaborn Encore. There's no shortage of swimming fun in the pools and hot tubs, or having a splash in the bars and clubs. You can also wet your game at the casino.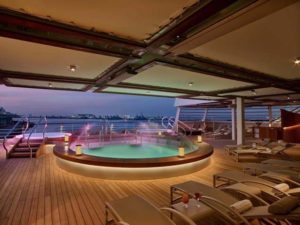 Bubbles and Bubbly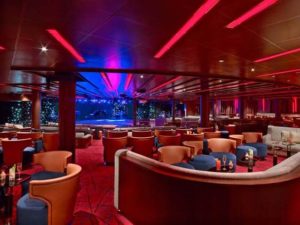 Lounging About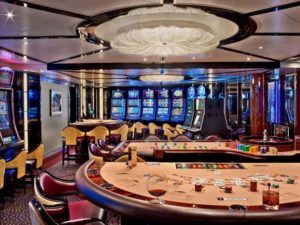 Baccarat Anyone?
Six luxurious suites also beckon to the day botanists and treasure shoppers—Wintergarden, Signature, Owner's, All Penthouse Spa, All Penthouse, and All Verandah. These range from 977 to 250 sq. feet, averaging 450-600 in the main chamber, featuring whirlpool baths, stocked bars, flat-screen TV, and spacious balcony.
As part of the five-proud Seabourn fleet, itself part of the Carnival Cruise company, the Encore is sleek and speedy, with refined touches of curves with lots of nautical decorations.
She's seasoned in these old spice islands and channels, and ready to enchant and relax all who board.
For more insight or information into the Seabourn Encore, feel free to e-mail us: info@southchinasea.com.cn