By South China Sea Staff
Images: Chaser Yachts
The Chaser 500R RIB launched at the 2018 Cannes Yachting Festival is powering up new concepts of speed and maneuvering.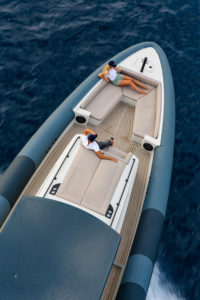 50+ Knots in Style
This customized light aluminum craft is 15 meters long with a 4.56 beam. Three Mercury Verado 400R outboards engines give it a top speed of 50+ knots. With a range of 600 nautical miles, this deluxe little beast is pure smoke on the water. 
Mercury Verado Power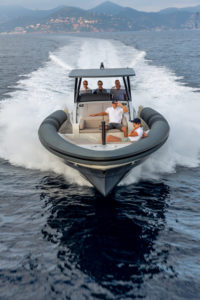 Barreling Down
From water skiing to wakeboard to paragliding, its a pleasure ship designed with fun as the primary mission. The expansive deck and two fridge double berth can hold up to 18 people. Lots of sea toys and scuba gear can be stored on it, as can coolers for suds and fishing. The same goes for sunbathing and long afternoon picnics or evenings under the stars with stretched out blankets. Or whatever floats your boat.
The Chaser 500R RIB 
For for more details, visit  www.chaseryachts.com or e-mail us for deeper insights at: info@southchinasea.com.cn .