By South China Sea Staff
Images: bdv Photography 
Nestled in jungle at a secluded beach, the iconic 1960s era Independence Hotel by Dara is among the finest in Sihanoukville—which is saying a lot for this stretch sand and swank resorts in the northern Gulf of Thailand.
"Grand Dame" resort of Sihanoukville
Then again, this hotel was the personal project of late King Norodom Sihanouk. Go ahead, check out this hands-on virtual tour of the Jacqueline Kennedy suite, named after the former first lady's stay here in 1967.
Or head to the spa for French mineral jet shower treatment and a scrub down to clean your skin and detoxify. It goes without saying that some sun time and swimming are de-rigueur at the beach or poolside—usually a bit of both.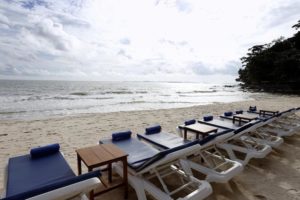 Independence Beach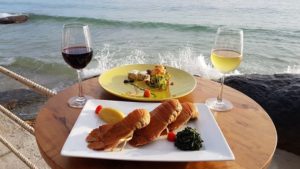 Sunset Dining
Dinner at Sunset made by the "Sunset Chef" with fresh seafood and special Cambodian, Chinese, and French flair is a nightly treat—matched with amazing wines no less. While dining, the backdrop of languid waves and green tufts of Cambodian isles off the coast compliment the natural setting—just as the dusk turns the sky purples, pinks, and resilient orange before welcoming myriad stars. Indeed, as part of the upmarket "Dara" hotels brand in Cambodia it has a stellar name to uphold. Because "Dara" means "stars" in Khmer.
Whether it's the classic 1960s vibe or contemporary service, the management speaks as one to every guest, "We are proud and happy to offer services in accordance with international standards and combined with local hospitality traditions."
Talk about a warm and independent attitude!
For more information or inside contacts, feel free to e-mail us at: info@southchinasea.com.cn