By South China Sea Staff
Images: Rosewood Sanya //
Located along Haitang Bay, Hainan, Rosewood Sanya is celebrating one year! Opened on 21 August, 2017, this luxurious property offers 246 panoramic ocean view rooms, and features five restaurants and lounges for indulging and pampering.
The property oozes with art and culture. The lobby greets guests with works such as a seven-meter-high abstract floral oil painting on canvas by Argentine-based nature artist Carlos Arnaiz. Another painting is by South Korean artist Byun Dae-young– Ice Cream Bear; and Tower of Babel by Wuhan-based artist Ding Hao is placed in the corner of the arrival lobby. The latter has been carved from bamboo and wood.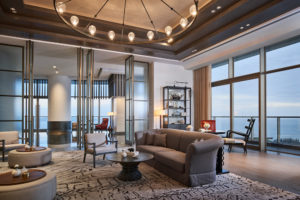 An immaculate art lobby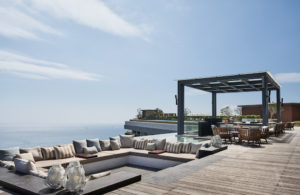 Bar-side with the sea at Hai
The HAI infinity pool bar on the 13thfloor with views of Wuzhizhou island features a a two-meter high sculpture of a man wearing a diving mask. It celebrates bravery whilst exploring places such as the deep sea. On the 14thfloor, US artist Thomas Givens has made Mahogany Whale Tale, a sculpture rising from floor to the high foyer ceiling that frames magnificent views of the South China Sea.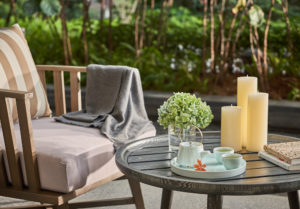 In the Sense Spa Garden
It goes without saying that their rooms and recreation areas are also highly tasteful and artistic—as are the health club and Sense spa. They also have 3,425 square meters of meeting and function space with a pillar-less ballroom. Their Rosewood salon, The Pavillion, is a residential styled meetings and function space with a sea view open terrace and show kitchen. We're thinking weddings and grand parties galore.
This is just the first year of fanfare. With new 30-day international visa arrival policies and more international cruises on Hainan island, we're anticipating many more surprises and treats from Rosewood Sanya.
For more information about Rosewood Sanya , feel free to e-mail us: info@southchinasea.com.cn